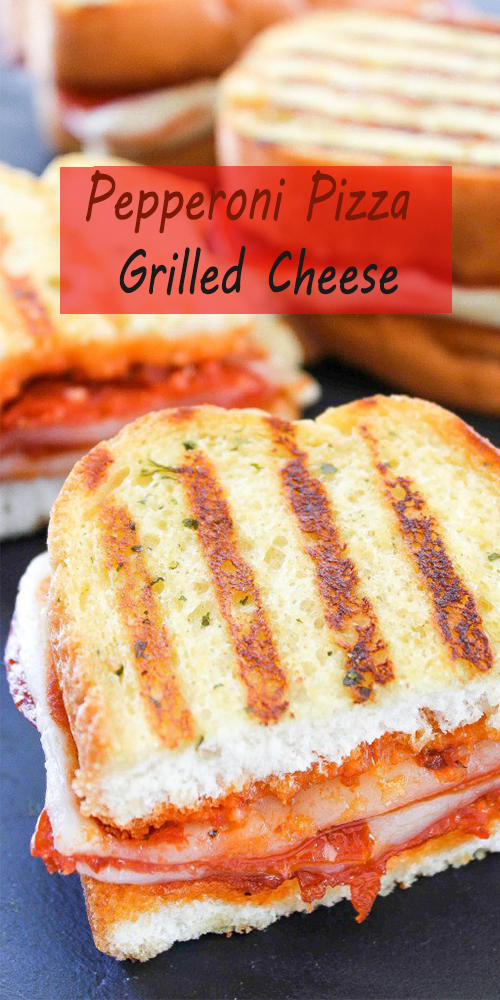 Pepperoni Pizza Grilled Cheese
Prep time:  10 mins Cook time:  10 mins Total time:  20 mins
Pepperoni Pizza Grilled Cheese: All the flavors of pizza in a SUPER easy to make grilled cheese sandwich. Tons of spicy pepperoni and gooey cheese make this an irresistible lunch or dinner!
Ingredients
8 Tablespoons of Pizza Sauce (My favorite is Del Grosso Pappy Freds)
1 Box Garlic Texas Toast
¾ Cup Pepperoni Slices
8 Slices Mozzarella Cheese
Butter
Instructions
Preheat oven to 425 degrees F. Bake garlic toast for 7-8 minutes.
Spread half the slices with ~1 tablespoon of sauce each.
Top with ~6 slices of pepperoni each.
Top with 1 slice of cheese.
Repeat the pepperoni and cheese layers one more time.
Spread ~1 tablespoon of sauce on the other 4 slices of bread. Press on top of the other slice of bread.
In a large skillet or grill pan, heat butter over medium high heat. Toast sandwich on each side for 2-3 minutes or until cheese is melted and sandwich is lightly browned.
Read more : BEEF ENCHILADAS
source recipe : https://www.bakingbeauty.net/pepperoni-pizza-grilled-cheese/