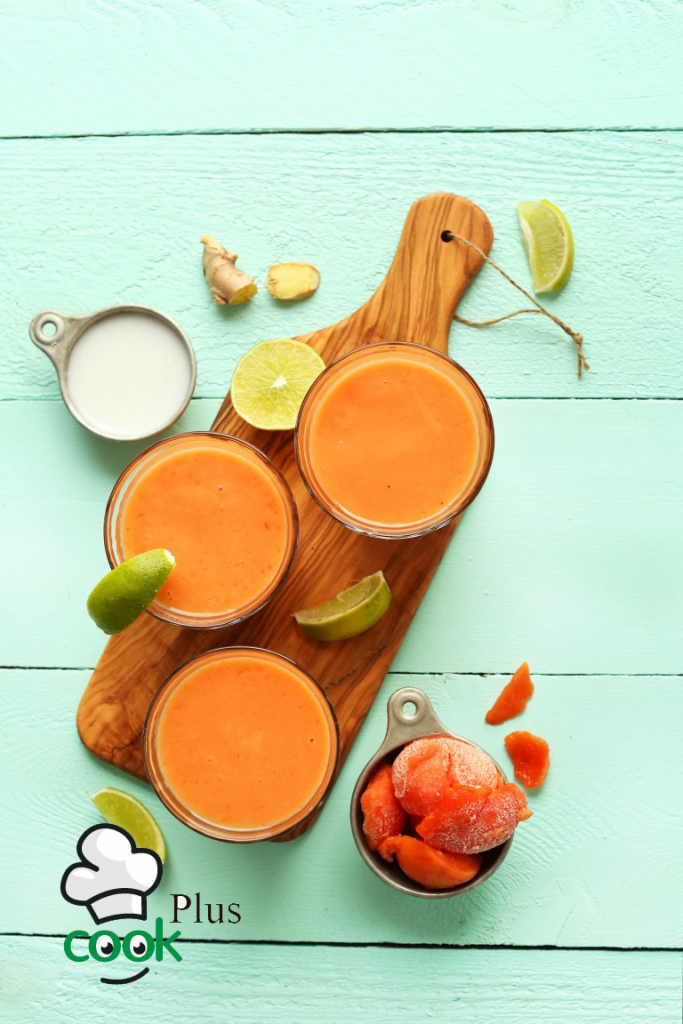 Coconut Papaya Smoothie
I'm sort of on a papaya kick, if yous haven't noticed.
Last calendar week I shared my accept on a Vegan Papaya Salad (seriously, then good). Last summertime I shared my Tropical Papaya Boats (hello fruity dessert heaven). And this week, a papaya smoothie! For non existence my #1 favorite fruit, I must admit, papaya is growing on me. I fifty-fifty tried a pomelo this week. Who am I?
This smoothie was inspired past a surplus of papaya subsequently experimenting amongst my papaya salad. I had to a greater extent than or less leftover fruit together with decided to freeze it, which lends itself perfectly to smoothies. Plus, papaya is incredibly nutritious together with detoxifying amongst tons of vitamin C, antioxidants, digestive enzymes, together with folate, amid other wellness benefits.
As always, this recipe is simple, requiring merely half-dozen ingredients, one blender, together with v minutes to prepare.
I intend yous guys are going to LOVE this smoothie! It's:
Creamy
Fruity
Tropical
Coconut-infused
Slightly tart
Healthy
Simple
& Delicious
Frozen papaya together with banana brand upward the creamy, naturally sweetness base, spell ginger together with lime add together a remainder of zing together with acidity. Carrot juice gives it a beautiful orangish colour together with fifty-fifty to a greater extent than nutrients, spell kokosnoot milk adds salubrious fats together with creamy kokosnoot flavor. Major swoon.
Coconut Papaya Smoothie
Creamy papaya smoothie infused amongst lime, ginger, carrot, together with kokosnoot milk! Just half-dozen ingredients inwards this nutrient-rich, naturally sweetened smoothie – perfect for breakfast or a snack.
PREP TIME 5 minutes
TOTAL TIME 5 minutes
Servings: 2
(smoothies)
Category: Breakfast, Snack
Cuisine: Gluten-Free, Vegan
Freezer Friendly one month
Does it keep? 24 hours.
Ingredients
1 1/2 cups frozen ripe papaya cubes
1 small-scale ripe banana (previously peeled, sliced together with frozen)
1-2 tsp minced ginger (to taste)
2 medium limes, juiced (2 limes yield ~1/4 loving cup or lx ml)
1/2 loving cup carrot juice
1/2 loving cup low-cal kokosnoot milk
1-2 Tbsp agave nectar (optional // or other sweetener of choice)
Instructions
Add all ingredients to a blender together with blend until creamy together with smooth, adding to a greater extent than carrot juice or kokosnoot milk if it has problem blending.
Taste together with conform seasonings equally needed, adding to a greater extent than banana (or agave) for sweetness, lime for acidity, or ginger for zing.
Enjoy immediately. Store leftovers covered inwards the refrigerator for 24 hours, or freeze into popsicles for longer term storage.
Notes
*Prep fourth dimension does non include freezing papaya or banana.
*Nutrition data is a crude estimate.